Welcome to my gallery. I conduct training programmes on project management and project risk management. I have also delivered several lectures to public and college students. You will find below photos of some of my presentations/ training programmes/ public speaking.
If you are interested in me giving a short lecture/ talk/ training programme at your organization/ college, please feel free to drop me a mail at submit@justgetpmp.com.
Indian Institute of Technology Madras (IIT)
Guest Lecture on "Construction of Underground Structures & Related Challenges"​ at the Industrial Seminar for M. Tech (Construction Management) students at Indian Institute of Technology (IIT) Madras.
Knowledge Institute of Technology, Salem
Chief Guest at the inaugural function of "Passionate Association of Civil Engineering (PACE)",
Knowledge Institute of Technology (KIOT)
, Salem. Delivered a guest lecture on "Job Opportunities in Civil Engineering and Project Management System".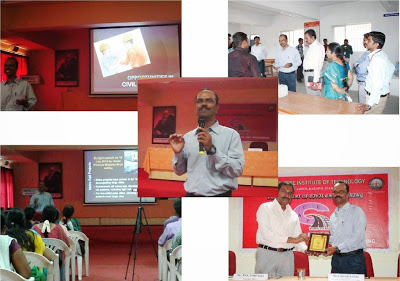 L&T Construction, Chennai
Invited for a guest lecture on "Diaphragm Wall Construction - Site Planning & Control" at L&T Construction, Chennai.
PMP Training Programmes
Public Programmes