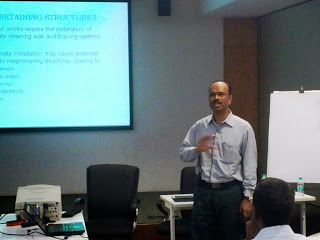 I was recently invited to deliver a guest lecture at Larson & Toubro (L&T), Chennai. I had to deliver a lecture as part of the training programme conducted for the staff of L&T Heavy Infra Civil in 01-M1A cadre (those who are mostly in supervisory and group leader levels).
The training programme on "Diaphragm walls" was planned to be conducted for two days at L&T Construction Headquarters, Chennai on 20th & 21st June 2014. The main aim of the programme was to share the knowledge on the construction of diaphragm walls, by inviting internal and external subject matter experts from the industries.
I delivered the lecture on the topic "Diaphragm wall construction - Site planning & control". I shared my experience from projects done in Singapore and India; I also highlighted the gaps and suggested areas of improvement for the staff.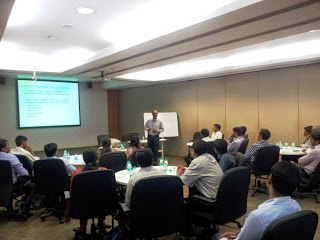 The programme co-ordinator, Dr. K. S. Ramakrishna, wrote to me after the training programme as follows:
I thank L&T for inviting me to share my knowledge and experience with the upcoming Engineers.