SWOT Analysis is one of the tools and techniques recommended in PMBOK/ PMP for the
identification of risks
in a project. It is a strategic planning tool used to evaluate the strengths, weaknesses, opportunities, and threats to a project. SWOT Analysis can assist you in recognizing opportunities that you are well placed to exploit. It also helps the project manager in understanding the weaknesses of the project so that they can be managed to eliminate threats which otherwise would not have been foreseen/ identified.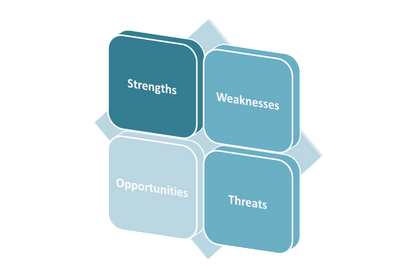 As you can see, SWOT Analysis is a framework to identify strengths and weaknesses in a project. This is typically done in interactive groups, like
brainstorming
sessions, where people can discuss, assess, and elaborate on the identified SWOT elements and analyzing them in depth. It is also a method for maximizing the positive risks (opportunities) and minimizing the negative risks (threats). The analysis and deliberation are designed in such a way to identify avenues to take advantage of strengths and exploit opportunities, as well as minimize the impacts of weaknesses and protect the project against threats.