Updated on 17 Nov 2017
: Free PMP® Exam Prep Practice Test (full mock test containing 200 questions) from SimpliLearn was added; the updated list now contains 3500+ Free PMP exam practice questions. Invalid links were removed from the list.
To succeed in PMP Certification Examination, you need to follow three golden rules, which are listed below:
Practice
Practice and
More practice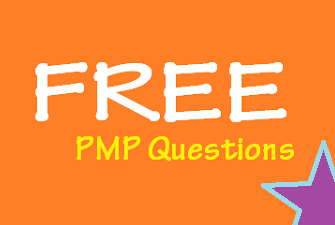 Got it? Yes, PMP is one examination where you can succeed only by getting some hands-on exercises. It is difficult to clear the examination just by reading PMBOK or attending some training. You need to try as many questions as possible, monitor your performance and control your study before going for the real PMP exam. I have touched about this approach in my earlier article titled
How to Pass PMP in First Attempt?
.
So, the next step is to find relevant resources. You can buy question banks or mock exam softwares available in the market, if money is not a constraint. But, if you are worried about spending more money on PMP, don't worry. There are ample PMP questions available online, free of cost.
In this article, I have listed some of them for your reference and use.
3500+ Free PMP Exam Practice Questions
Just Get PMP - PMP Exam Questions and Answers - Free
PMPExamForFree- Premium PMP Exam Questions (700 questions)
GreyCampus - Free PMP Practice Exam (200 questions); requires you to share your e-mail to receive the test result
Just PMP - Free PMP Practice test (200 questions); requires you to like and share JustPMP facebook page before you enroll for test
BrainBOK - Mastering PMBOK Exam (50 random questions displayed from a pool of 100+ free questions); requires a sign-in with Google Account

Oliver F. Lehmann
Project Management Academy - Free PMP Questions (50 questions)
iZenBridge
CertChamp - PMP Sample Questions (200 questions)
The Certification School - PMP Free Mock Exam (100 questions)
MyPM
Head First Labs - Free PMP Practice Exam (200 questions)
PMStudy - Free Sample Chapter Test on "Project Management Framework" and "Project Integration Management" (151 questions)
tutorialspoint – PMP Mock Exam (200 questions)
preparepm.com

Threon - PMP Test Questions
Project Management Test Bank - PM Test Bank (480 questions)
PMTraining - PMP Exam Demonstration (10 questions)
SimpliLearn - Free PMP® Exam Prep Practice Test (200 questions); You need to provide your name, e-mail id and phone number to start the Practice Test
Voight Project Solutions – Practice PMP Exam (

Removed the link on 13 Oct 2015 as it is not working

)
PMP Links - PMP Practice Exam (200 questions) (

Removed the link on 17 Nov 2017 as it is not working

)
Remember that PMP is not only Project Mangement Professional, but also stands for Practice Makes Perfect.
You may also be interested in:

Disclaimer
I have not tested or reviewed the above links. So, I cannot vouch for the content provided in those links. It is up to the individuals to ensure the relevance and accuracy of the questions. However, we would welcome your feedback on those questions banks which would help other PMP aspirants to choose the better question bank for their exam preparation.


Revision History
Nov 17, 2017: Free PMP® Exam Prep Practice Test from SimpliLearn was included; PMP Practice Exam from PMP Links was removed
Dec 31, 2016: 700 Premium PMP exam questions from PMPExamForFree were added
Nov 24, 2016: Free PMP practice exam from GreyCampus was added
Nov 16, 2016: Free PMP practice test from JustPMP was added
Jan 16, 2016: My own PMP exam sample questions (10 questions) were included
Jan 09, 2016: 10 sample questions from PMTraining were included
Jan 08, 2016: 175 Prep Questions from Oliver F. Lehmann and 200 Free PMP Practice Questions from PMP Links were included
Nov 26, 2015: 50 Free PMP/CAPM Sample Questions from BrainBOK were included
Nov 16, 2015: 50 Free PMP Questions from Project Management Academy were included
Nov 14, 2015: PMP Free Practice Test and Earned Value Management (EVM) Quiz from iZenBridge were included
Nov 04, 2015: PMP Sample Questions from CertChamp were included
Oct 29, 2015: PMP Free Mock Exam from The Certification School was included
Oct 13, 2015: PMP Practice Exams from MyPM were included; Practice PMP Exam from Voight Project Solutions was removed
May 28, 2013: First published