Note:
This article is based on PMBOK Guide Fifth Edition
This is my first post based on the latest edition of the PMBOK Guide. I managed to get a soft copy of the Fifth Edition as part of the PMI member benefits. If you are still preparing for the PMP exam based on PMBOK Guide Fourth Edition, then this article may not be applicable to you; there are only
9 knowledge areas
in PMBOK Guide Fourth Edition.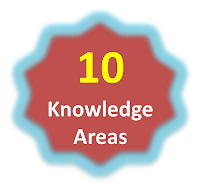 The 47 project management processes identified in PMBOK Guide Fifth Edition are grouped into 10 knowledge areas. A knowledge area basically refers to an area of specialization like Time management or Cost management. The knowledge area includes a set of concepts, key words and activities specific to that particular field of project management.
You may also be interested in:
10 Knowledge Areas
The
10 knowledge areas
that are used on most projects most of the time are listed below:
Project Integration Management
Project Scope Management
Project Time Management
Project Cost Management
Project Quality Management
Project Human Resource Management
Project Communications Management
Project Risk Management
Project Procurement Management
Project Stakeholder Management
As you can see, the last knowledge area "Project Stakeholder Management" is the latest knowledge area to be included in PMBOK Guide Fifth Edition.