Enterprise Environmental Factors
and
Organizational Process Assets
are the terms that you would come across quite commonly in the PMBOK Guide. They are inputs to most of the project management processes. Enterprise Environmental Factors are those factors that could potentially affect or impact a project's success.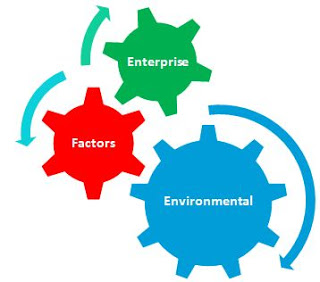 These factors determine how a project manager manages a project. So, it is important for a project manager to have a good understanding of the enterprise environmental factors that could potentially affect his/ her project.
For example, stakeholders risk tolerance is an enterprise environmental factor. If the stakeholders are aggressive, then a project manager would be allowed to take risks that could potentially have a high impact on the project. On the other hand, if the stakeholders are not tolerant to high level of risks, then the project manager has to handle the project in a different way.
Enterprise Environmental Factors: Internal or External?
The enterprise environmental factors could be
internal
factors to the organization like organizational culture, existing human resources, work authorization systems, project management information systems (PMIS), organization's established communication channels and so on.
They could also be factors
external
to the organization like Government standards, industry requirements, market place conditions, political environment and so on.
So, if you are a project manager, it is important to ask yourself or to throw the question to your project team.
What are the enterprise environmental factors that could impact/ affect the success of our project?
The earlier you find the answer, the better the chances of a successful project.